Today, I rushed through my day as fast as I could, making sure I took care of all the things that was on my "to do list", as I could hardly wait to get to the end of last TO DO. Yesterday, was in close relationship to Christmas Eve to me, as I got to open a wonderful gift of my new blog template that

Indigo Black

made especially for me. (When I was very young, my sister and brothers and I were allowed to open one present the night before Christmas before we went to bed, and when I finally drifted off to sleep as an innocent child, my excitement, and then dreams were of the opportunity of playing with the gift the next day.) And, so today, while I did all the necessary things I had to do, I thought the entire time "When I am done, I can play with my new present." Just like Christmas. Oh, Boy!!
The thing about blogs, is that you do not want to bombard them with so many things in one day, (which is not an easy task, I have discovered since the addiction of blogging has hit me), so, I finally decided to write on the subject at hand, my new template blog concerning butterflies, as there is a history at hand with me concerning this. And I thought I would share it.

My mother collected anything to do with butterflies, and after she died, I continued her hobby. And it turned out for me to be so rewarding, uplifting, and in its own right, very inspirational. Butterflies come is so many different sizes and with so many beautiful colors, and as this blog will show, also different personalities. While my mother was alive, we spent a great deal of time together going through books, watching programs and any information we could find concerning butterflies. (we did this also with hummingbirds, but that is another story.) It was totally amazing and an education I will never forget. Butterflies, with all their colors, and each one totally different, like a finger print, speaks to my soul. Their colors can be bright, dark, or pastel, and the way they just seem to float, sometimes on still air, somehow just brings a wonderful good feeling of comfort. It is no wonder why so many artist and poets incorporate butterflies into their sentimental emotions of their work to get their point of view across to the public.
So, with that said, I am dedicating my blog today on butterflies, and will share thoughts I have written on butterflies, and many of these concern remembrance of my mother. I know, another long blog, but it just feels right to do this today, and I hope readers enjoy it. The poems or stories, right now might not be in a particular order, but I wanted to at least get them down while I had the thoughts and the opportunity to do so. I also hope to show certain pictures taken of my butterfly collection, in hopes that it adds to the poems and stories. (Not sure how to do this, and I might have to scream HELP to Indigo Black for assistance, so keep checking back on this blog.)
~~~~~~~~~~~~~~~~~~~~~~~~~~~~~~~~
Being A Butterfly~Missing You Mom
I really never thought I would write this story, (yet, I wanted to so much) and found the strength to do so, for some reason, who knows why. It seems so outrageous to do so. Who would, or could believe that I still think you might come back this way, as a butterfly, or is it just my way of remembering you? Was it just because I knew you loved the butterflies so much. Or was it really you?

Was it you playing with my grand boys, teasing them while they recognized the beauty of the colors of your wings? Or was it just a butterfly that did not care, and perched so they could touch you, with no fear, or was it you? I have never seen a butterfly that stood so still while the entire clan of family could caress the beautiful colored wings of black and gold and blue, and the butterfly did not move. What a brave butterfly, so unafraid of the human touch. Was it you?

It really does not matter, the thought was there. The things you represented, the care and love shared. From you, no longer here, but near. At least my mind goes there. Maybe I need to go there, with you, wherever you are. It was probably just a brave butterfly, sharing nature and love. And while it did, I was thinking of you. It was so much like you. Do you know we miss you and love you, and always will?

My butterfly Mom, whom you always said you would be, if you came back to this life to see. I see you better now than ever before. The beauty of the butterfly wings, the delicate of flights, and colors on flowers that bring us joy. So many stories you tell, with your Butterfly Wings of Love.
Katie
August 27, 2005
~~~~~~~~~~~~~~~~~~~~~~~~~~~~~~~~~~~

Butterfly Window
6-4-2005
By Katie Fairchild
Butterfly window
It is you each day that I will see
And will make a point to do so.
Your colors bring smiles and glory and thoughts
And things to my heart.

I need to see you each day
As sometimes my smiles are astray, and I need your colors
To remind me, to smile, love and understand.
Only a few dollars brought you here
And smiles on seeing you
Is worth so much more.

Jim, my heart, my string, my everything
Placed you in my heart so well
Glued you to make your colors glow,
With books and days to make you grow
And placed you on the window
With the sun shining through,
So that I would not forget.

And there you are, so inviting
Colors so thrilling, so loving.
Something I so needed, and so many others do to.
My butterfly window. So special and
New to me, yet old to remind me.
Reminding me to never forget and
To remind myself
Of beauty of red roses I used to know, in childhood.
(This poem was written as my husband found a beautiful stained glass butterfly, and placed it in a frame, and placed it inside a window where the sun always bright and hit it in a certain way. And each morning, this is pretty much the first thing I see.)
~~~~~~~~~~~~~~~~~~~~~~~~
Cacoon to butterfly
And then amazing colors~
The butterfly!

Colors of mood, expression, depressions
Colors of what we know in life~
Colors of just so much~Butterfly~Colors

My butterflies are in a box
My collection~My inspiration~My Life
My world of colors.

Wings on a soul, wings reaching
Wings of colors and expressing
Wings in a box releasing.

Katie Fairchild
April 24, 2005

~~~~~~~~~~~~~~~~~~~~~~
I Saved Your Things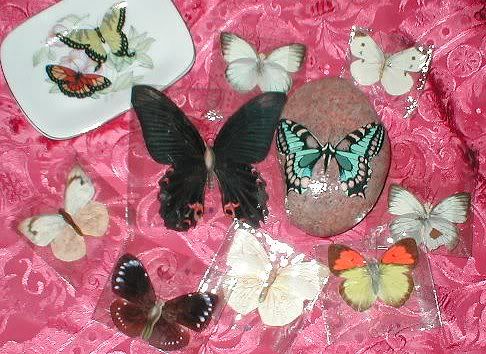 I saved your Things~
All letters written to you,
From Us~
Your Five Children
You loved so much.

I saved your Things
Your words
Your works,
You will go down in
History Vision!
At least in my eyes.

I saved your Things
Even your butterflies!
And your hummingbirds!
I did save your things,
Your words
Encouragement
That teach us wise.

I saved your things,
And while I did, I saved mine.
Thank you for teaching me this.
I love you Mom!
Katie Fairchild
Jan. 2005
~~~~~~~~~~~~~~~~~~~~~~~~~~~

Butterflies and Hummingbirds
Mothers Day 2005~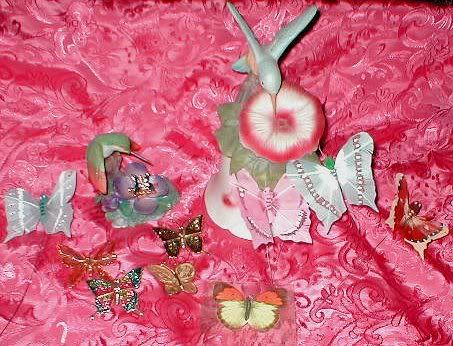 Mothers Day, and I still look for gifts for you, knowing you will never see them!
I guess me seeing them and buying them for myself brings me some comfort.
Childhood, emotions and even adulthood reaches one at some way in my mind.
I guess scattering you among butterflies was not enough for me. Yet, hoped it would be and I am sure later it will be, just not right now.

I miss you so much, and my heart seems to break on Mother's Day, as you are not here with me but except only in memories. They say time will wound loss of parents, but it does not with me, not yet.
Especially with you.
All my life I wanted a special relationship with you, and for a brief while,
I had it. And you did too. We both got our wish, which makes it so hard for me,
As I miss you so much, and wanted so much more time with you. And then you were gone.

I want my tears to stop falling on days that remind me of you. Birthdays, Holidays
And especially Mothers Day. And yet, while I beg the tears to stop, I know they are
Important to keep in tack with emotions. As they are tears that remind me of you and
Your love as a wonderful mother. I love you Mom and you are missed, and I am in touch.
In touch of all you said, and what you gave in your life time, and expressed or tried to, to so many.
Your dream of your words and wisdom are read, as you hoped, and are loved while these strangers read.
You said so much and reached so many, and all that read your works and words,
Know you spoke of truth and love and reached so many, just as you hoped. And realize your importance!
I love you Mom and on a day to day basis forever, and will think of you each day~
I know that years and tears concerning you and even after your death, that
I will never stop loving or missing you. And each and every year, while you are gone
This will remain the same, as I will always think of you.
So, this is written to you and for you, regarding my love for you.
You gave so much to so many in your words, and
No wonder I think of you of Mothers Day
As you were and will remain a wonderful mother. And you are loved and missed
Always and Forever.
~~~~~~~~~~~~~~~~~~~~~~~~~~~~
Not So Shy~The Butterfly

OK, a butterfly, and not even shy, and it came to me and my husband on a camping trip. Really weird, not to mention Silas our dog, that was grateful to eat anything besides dog food, especially if it moved, and he could chase it. But this particular Butterfly, with his or her velvet colored wings, or colors of yellow and gold to motif the shiny black wings, made a really big point, and memory on our camping, fishing adventure. And Silas, strangely, refused to harm or touch it, but stared in amazement at the creature!
No other butterflies swarming around our camp site, even approached us, and would fly away the moment we dared to get close to them to get a better view.
But, NOT SO SHY THIS BUTTERFLY! She or he was totally unafraid of us. We all were in total amazement. In disbelief, I wondered why or how dare such a delicate creature come near our camping area. And with a dog to boot? A dog that ran around trying to catch tiny black flies with his teeth for fun, or due to boredom. To me this Butterfly encountered many thoughts and fond memories with me. I always believed my mom might actually come back as BUTTERFLY. Did she? Just something to think about.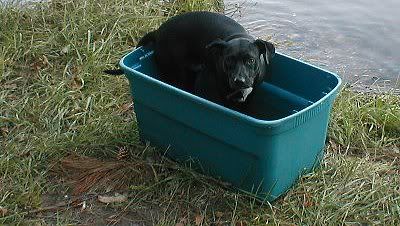 We did not have a camera in hand when the NOT SO SHY THE BUTTERFLY made the appearance, but, the picture above was taken on our camping trip, with Silas in his glory of jumping into a bucket where we kept the fish we caught, and if you look close enough, you will see he has a fish in his mouth. Yet, he stood in total awe and amazement with the butterfly.
~~~~~~~~~~~~~~~~~~~~~~~~~
Flutterby by Heidi Siegrist
(The picture and poem below was written by my niece Heidi, who will be 15 next month. One of my very favorite pieces, as she explained her feelings so well. I just love it!)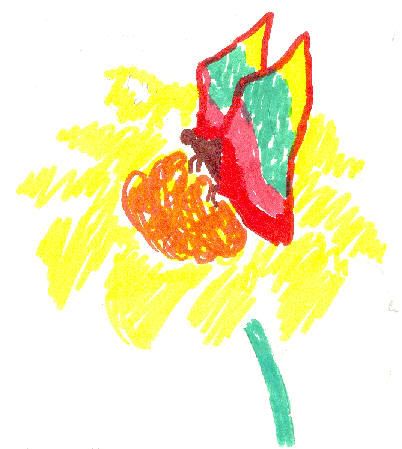 I drew you a butterfly.
I know you liked those.
I've seen them on your table
Swimming in a sea Of red velvet.
I guess people are like butterflies.
They land somewhere
And you love them, and watch them
On their perch.
Then they fly away
And you Can't figure out
Where they've gone.
And the colors around you
Can't compare.
People are like butterflies.
They stay awhileThen flutter by.

Heidi Siegrist
Aug. 31, 2003
Tribute to Mommadee
Well, can you believe it? I am near to the end of my blog for tonight. Before I end it, I did want to give a short history of my mother, since I wrote so much about it here tonight. She was a professional English, Writing and Literature Professor at a small college, and in a small town in Alabama. If you would like to read any of her poems or works, there is a link on the side bar of Addie Williams. Good night folks!