This will be the last blog I write for a long time. Actually, I have no idea how long it will be before I get back on the Internet. As most know, we are moving, and our new place is out in the country, and I mean way out in the country. The town we will be living in only has a population of about 700, and there is no such thing as cable internet (for that matter, cable TV, but we can use Satellite dish.) We will have to go back to the primitive days and use a dial up modem. So, I am taking some very precious time to write this as our internet will be cut off today.
This has by far, been the hardest move we have ever made. In reality, we have been preparing to move (packing, etc.) for 2 months. The home we live in now (for 2 more days) is a two story home built in the early 1900's and sports servant quarters of 4 rooms in the back, as well as a large barn, and large well house. Perfect place if you have a lot of junk, which we did.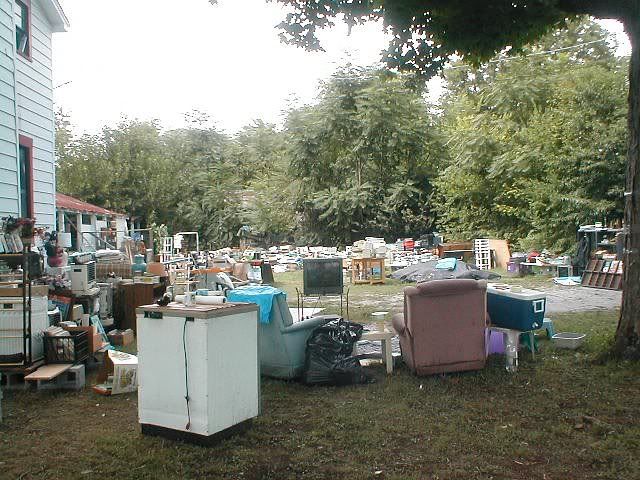 Our new home is one story and 3 bedrooms, and on 1 1/2 acres of land, and is just wonderful. But it does not have much storage space at all. Pretty much all it has is an old horse stall in the back.
I want to say just a few things concerning Rose and Invision Graphics and what they have written about me on their forum. Actually, I was not going to make any comments at all, but my good friend
James Landrith
emailed me last night to say that he had written
a short blog
on Katie's Logue. Since he has such a high volume of visitors, I decided I needed to make a few comments.
Shawn is assuming that I started the thread on Players and Psychos, rumored that he was an unemployed individual and that I placed Rose's picture on the thread. This is a false hood and I thought Shawn was savy enough to find out who started that thread. I know that Shawn does work and I think my reputation shows that I do not write anything unless it is truthful or well researched.
Speaking of truth, they said I lied about the pictures of the children on TW being removed. I did not lie about that, as twice when I checked, the pictures were gone. I will admit that they might not have been removed permanently but were not there at those two times I checked. Many times on our eBay store someone will email me that the picture is missing. The problem was with Photobucket and were shortly placed back.
This brings me to another subject of what was found in the forum. Shawn made a comment that my husband sold on eBay and insinuated that he made little money, and he would like to compare income between what he makes versus what my husband makes. First of all, who cares about who makes the most? I certainly don't. But he did try to make his statement sound as if my husband was just a poor little thing and forgot to mention the fact that he is, in fact, a Power Seller, which requires a certain volume and feedback to become such.
It was also discussed that I had issues with Authors Den. Where they came up with that is beyond me. If you look at my side bar under
Assorted Wonderful Links
,
Addie Williams
is there, which is a site for she and I both, where someone (and to this day, I do not know who) paid a life time membership for us. Another subject at hand in their forum was that I was not a good writer. Heck, I have no idea if I am or not. Some like what I write and some don't. But, I was honored after Katrina devastated so many to have a poem
ELDER PRAYER
, chosen with only a few others, to put on Podcast by Authors Den.
Then something was written about us living in a Mobile home, which we do not, but what if we did? Does living in a mobile home make people different? What has that got to do with anything? Are they saying that people that live in Mobile homes are inferior to them, that they are better than people who live in mobile homes?
A great deal more was written, and it is all distorted and manipulated to fit them, and to confuse their followers. This is not a surprise to me and expected.
Concerning the book I am writing, I do have a publisher who is very interested and becomes more interested each day as Rose, herself, helps promote the book. Actually, it might just be a good idea to go with Lulu or another POD as I think it would sell and could make more profits due to the interest now. LOL
Indigo will be taking care of my blog and monitoring comments for me. She knows that I accept comments as long as respectful, and even if they disagree with me. Everyone can voice their opinion.
Take care everyone and I will be reading when I can.
Hugs,
Katie
****************

Katie has asked me to edit this post a little and to also look after her blog (bwahahahahahahaha!) until she gets settled into her new place. I'm not as intuitive as Katie, so if you send a comment that you do not want published please be sure to say so in the comment otherwise they will be published. Any and all troll comments will be zapped.
Just briefly I want to add that it is typical for the group of trolls in question to demonize those who oppose them. If they can't find something on the person, they'll either make stuff up, twist the facts or resort to name calling and nitpicking. Sometimes all of the above. Katie is a good person but because she has taken on the task of exposing this cyberpath, she has come under attack. Personally I believe this attack is nothing more than a 'poor-pity-me-sign-up-at-my-site-and-donate-money' pr move but only the trolls know their real motive.
In short, it may take all of a minute but eventually this too shall pass (when the clicks and the poor baby back rubs stop) and trolls will move on to the next act in their High School drama. In the meantime, I'm sure Katie would love it if you all said prayers (or sent virtual hugs or said a mantra) for her and her family.
Hugs to all and happy blogging :)
Indigo